Hugh Jackman's Skin Cancer Scare and Facts You Need to Know about Basal Cell Carcinoma!
On Nov 23, 2013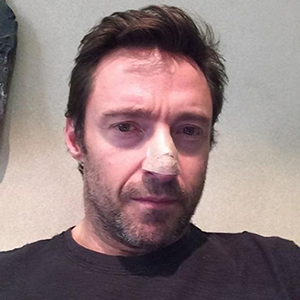 If Wolverine can get skin cancer, no one is invincible.
"Deb said to get the mark on my nose checked. Boy, was she right! I had a basil cell carcinoma. Please don't be foolish like me. Get yourself checked. And USE sunscreen!!!"
In a post to his 231,000 Instagram followers, Hugh Jackman reveals that he was treated for basal cell carcinoma (BCC), the most common type of cancer in the United States in both men and women. There are approximately 800,000 new cases of BCC in the U.S. annually. BCC usually affects people over age 50, however younger people may also be affected.
What does BCC look like?
There are many forms of this tumor but the most common one, nodular basal cell carcinoma, looks like a shiny bump with tiny dilated blood vessels extending onto it.
What's the prognosis for BCC?
The prognosis is generally very good for BCC since it usually doesn't metastasize but rather invades into the tissue. Thus if people are lucky to have their dermatologist diagnose their BCC early, like in Hugh Jackman's case, the cancer can be effectively treated, with a low risk of long-term mortality from this cancer.
How do you prevent BCC?
If you are a reader of Central Skin, you may already know the answer. Like all other skin cancer's, BCC is caused by excessive sun exposure. Effective prevention involves using sun protection, avoidance of excessive sun exposure, and application of the proper amount and quantity of good sunscreen.
Here is some of our past articles on the use of proper sunscreens and how expensive sunscreens are not always better.
---
References:
Hugh Jackson Reveals Skin Cancer Scare. NY Daily News. Nov 23, 2013.