Anti-Aging Herbs and Spices
On Oct 12, 2013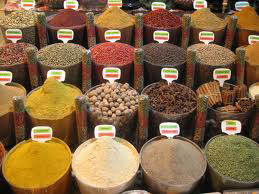 There is a plethora of beauty creams in the market that promise to fight the signs of aging such as dark spots and wrinkles. Today, people are really concerned about how to look young, and to achieve this, they are ready to go to any lengths. This is one of the prime reasons why a lot of people today don't mind spending thousands of dollars on cosmetic surgery. Although people have lapped up the cosmetic industry's offerings, it is worthwhile to know that there are natural ways of fighting the common signs of aging. Certain herbs and spices have been known to be great for the skin. Let us take a look at them.
Basil
Basil is an aromatic plant that is used to add fragrance to the dishes. However, you will be surprised to know that basil is great for the skin too. It is rich in nutrients and antioxidants, which makes it beneficial for the overall health of the body. The flavanoids present in basil protect our body from the harmful free radicals. A study conducted by the Poona College of Pharmacy in India found that basil had anti-aging properties. Basil has long been known in ancient Indian Ayurvedic medicine as being beneficial for the body.
Royal Jelly
Royal Jelly is rich in a number of Vitamins, amino acids, proteins, and enzymes. It is extremely beneficial for the body, and is considered one of the best natural anti-aging herbs. Royal Jelly helps in anti-aging by facilitating cell growth and enhancing tissue regeneration.
Ginseng
Ginseng is another herb that has come in the limelight for its anti-aging properties. Ginseng helps in making the skin look fresh and healthy. Research conducted by the University of Maryland found that regular consumption of ginseng helped in better blood circulation. The antioxidant properties of ginseng help in premature aging.
Turmeric
Turmeric contains curcuminoid that boosts the synthesis of antioxidants. Turmeric also protects the skin from damage caused due to free radicals.
Milk Thistle
Milk Thistle has been known as a powerful detoxifying herb, but over the last few years, researchers have found its anti-aging benefits as well. Milk thistle contains Silymarin, Vitamin E, and fatty acids – these help in preventing the skin from sun damage, apart from rejuvenating the skin.
Italian Seasoning
Italian Seasoning has a number of herbs that help in maintaining the overall health of the body. These herbs also help in preventing premature aging. Most of the benefits of Italian seasoning are related to its property of protection against free radicals.
Some other herbs that are helpful in anti-aging are,
Rhodiola Rosea

Rosemary

Grape Seeds

Frankincense

Clove

Neem

Coriander

Oregano

Pine bark

Ganoderma
---
This was some information on anti-aging herbs and spices. As we mentioned in the beginning of this article, people today are dependent on cosmetic products to a large extent. However, it should be remembered that some cosmetic products have strong chemicals which can have adverse side-effects on the skin. Also, these cosmetic products are only helpful for the outer part of our body. Herbs and spices, on the other hand, are beneficial for our overall body. Therefore, we recommend you to use herbs and spices for your anti-aging skin care.
---
Author Bio:- http://agein.com