The Power of Exfoliation
On Aug 28, 2013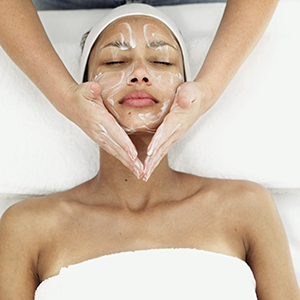 Image source: Microsoft Office images
When it comes to your skin looking it's best, dead skin cells are your worst enemy. Dead skin cells are constantly sitting on the surface of your skin, begging to be exfoliated away so that your healthy skin can emerge from beneath. Dead skin cells contribute to dullness of the skin and can make pretty much any skin problem you have even worse. We have millions of dead skin cells; in fact, humans lose over 30,000 to 40,000 every hour! (Source: Boston Globe) Learn more about cell turnover here: "The science behind exfoliation, scrubs, and microdermabrasion." For this reason it is important to take matters into your own hands and speed up the cell turnover process by exfoliating. Here are some common problems and ways to solve them using proper exfoliation methods.
Uneven Skin Tone
One of the main causes of an uneven skin tone is the buildup of dead skin cells. Another major cause is sun damage. Be sure to wear a sunscreen every day, even if you are not spending hours in the sun. A great recommendation for every day sun protection is Clinique's City Block SPF 40 because it is very lightweight and feels great on your skin. (Bonus tip- this sunscreen makes an amazing primer underneath makeup and also instantly evens out your skin tone when wearing it by itself!) In addition to protecting your skin from the sun at all times, it is crucial to create a daily exfoliation regimen. I recommend using a scrub that is gentle enough to use daily. Clinique's 7 Day Scrub is aptly named because it is gentle enough to use seven days a week. Because the exfoliating beads in this scrub are softened by water, it is best to apply to dry clean skin so that you can experience the scrub full force. If you have an oily skin type and you do not like the idea of having to scrub daily, try Clinique's Exfoliating Scrub. This scrub is powerful so you should only use it 2-3 days a week. Not sure what your skin type is? Find out here: "What is Your Skin Type?" Another great option is Benefit's Refined Finish Facial Polish, which gives the skin a beautiful radiance and minimizes the appearance of pores using clay and other natural ingredients.
Acne Prone Skin
Acne is caused by many factors, however, the easiest one to control is the buildup of dead skin cells. Yes, dead skin cells can clog your pores and cause breakouts. The most important thing to know is that you actually want to avoid using an exfoliating scrub during an acne breakout because scrubs can transfer bacteria from blemishes to other areas of your face and cause an even bigger breakout. If this is your case, try a liquid exfoliator such as Clinique's Turnaround Concentrate. All you have to do is apply this serum to your face and the product does the rest of the work for you by optimizing your natural cell renewal. I like to use the 7 Day Scrub while my skin is clear and then switch to the Turnaround Concentrate during a breakout.
Dry Skin
If you suffer from dry skin and are not properly exfoliating, your skin may not necessarily be as dry as it appears. Dead skin cells can block your skin's ability to absorb moisturizer, therefore you are not reaping the full benefits of moisturization. If your skin still feels dry immediately after applying moisturizer it is a good indicator that you may need to remove that horrible layer of dead skin cells via exfoliation. Clinique's 7 Day Scrub is a great choice for dry and senstive skin because it is very gentle and will not cause irritation or strip your skin of moisture.
Although exfoliation is a beautiful thing, it is possible to over-exfoliate. Some signs include patchy areas of dryness, tightness of the skin, irritation and/or redness and dehydration of the skin. If you experience any of these symptoms you may want to try cutting back by scrubbing every other day rather than daily.